Exploring Strategies Enabled By Microsoft Fabric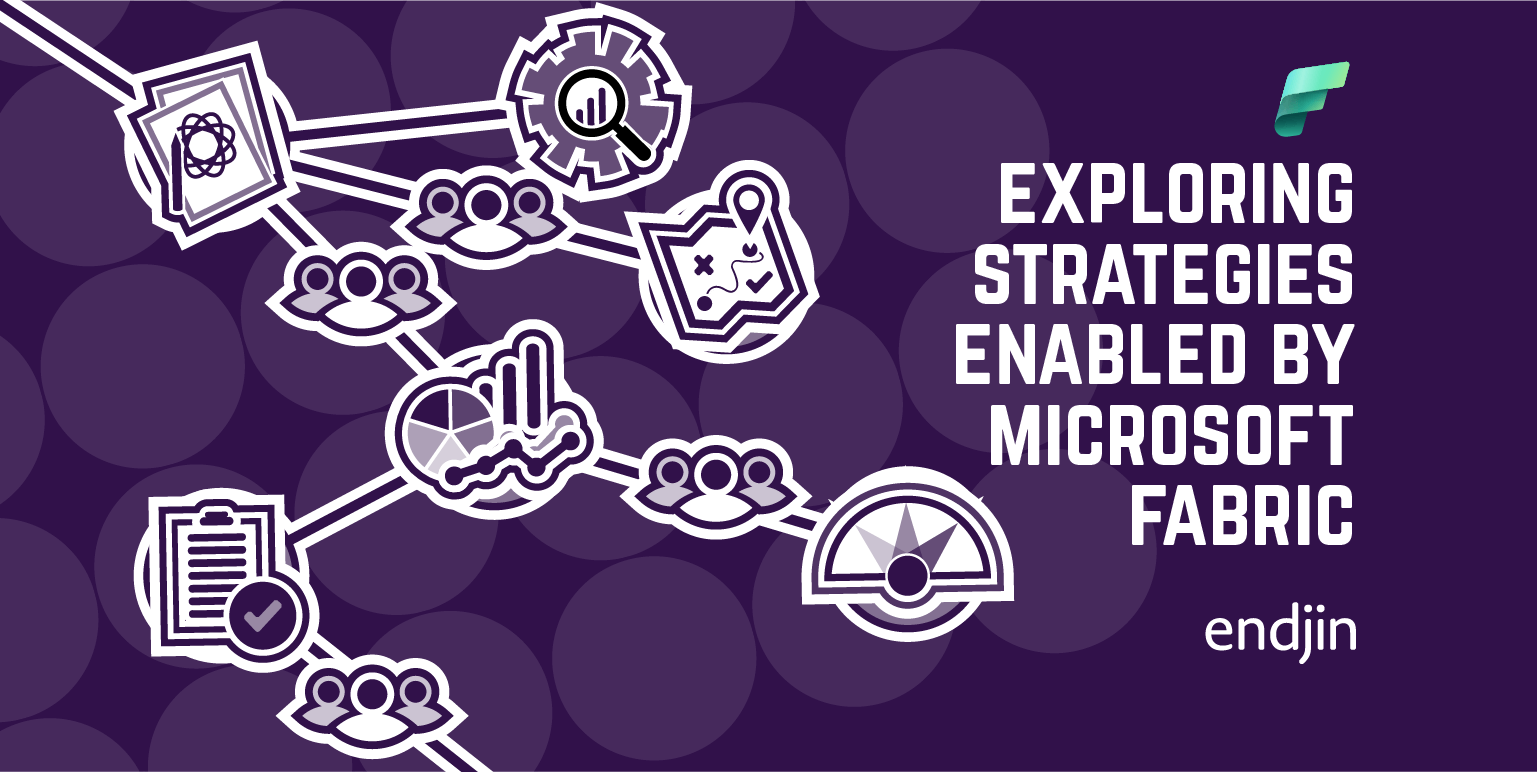 TLDR; We recommend that technology leaders approach adoption of Microsoft Fabric as digital transformation initiative. In other words, avoid adoption of Fabric becoming "same process, new platform". Use 6 to 12 months before Microsoft Fabric becomes generally available to build situational awareness, explore strategic options and engage with stakeholders to gain support for a revised data and analytics vision.
In May 2023, Microsoft announced Microsoft Fabric. It extends the promise of Azure Synapse Analytics integration to all analytics workloads from the data engineer to the business knowledge worker. It brings together reporting, analytics, data science and data engineering on a new generation of lake house infrastructure. Delivered as a unified SaaS offering, it aims to reduce cost and time to value, while enabling new "citizen data science" capabilities. See Ed Freeman's Introduction To Microsoft Fabric for more background.
The objective of this five part series of blogs is to help technology leaders assess the strategic implications of Microsoft Fabric. So, if you are a Chief Technology Officer (CTO), Chief Data Officer (CDO), Director of Data and Analytics, Director of Artificial Intelligence, Head of Data Science or any similar senior data leader role, this article is for you!
Over the coming months, Microsoft Fabric will move from public preview to general availability at which point it will be feasible to start deploying production workloads on the platform. This blog will help you to identify what actions you should be taking over the next 6 to 12 months, to explore the strategic opportunities that will open up from adoption of Microsoft Fabric and to tailor your vision accordingly.
Take a goal driven approach
The objectives you are seeking to achieve through adopting Microsoft Fabric should be clear before you start. Microsoft Fabric is a new generation of data platform that is seeking to deliver a range of benefits to organisation. The general benefits being:
Reducing TCO - making it easier to build and operate sophisticated data products.
Accelerating time to value - reducing friction, removing duplication of effort and providing new tools that streamline the development lifecycle.
Scaling up to meet demand - by empowering people across the organisation (not just in centralised data teams) to discover, build and own data products, whilst making it easier for others to consume these data products.
Increasing trust, reducing risk - by providing an integrated suite of tools that have best practices around non-functional requirements such as governance, security and scalability baked in.
Predictable pricing - by introducing a commercial model that allows budgets to be controlled, removing fear of big data = big money.
These generic benefits will no doubt be attractive to all organisations, so the next question is: what are the benefits specific to your organisation that can achieved by adopting Microsoft Fabric?
Here we advise that you take a goal driven approach: what are the BHAGs in your organisation? How could data driven actionable insights help to achieve these goals? How could Microsoft Fabric help make this a reality by enabling you to do it cheaper (reducing TCO), faster (accelerating time to value), by empowering people who are already in the organisation (scaling up to meet demand) whilst limiting the pitfalls involved (increasing trust, reducing risk)?
It is often surprising what you can uncover when you explore the goals of the organisation and think about how data and analytics could play a role in helping to achieve them.
Common examples are:
Enabling better decision making for leaders in the organisation, based on evidence rather than "gut feel". Furthermore, decisions based on data can often be made more rapidly - significant competitive advantage can be generated by moving from reactive decisions (descriptive analytics) to proactive decisions (predictive / prescriptive analytics).
Mitigating risks that present a significant threat to the organisation.
Supporting growth such as boosting customer acquisition through targeted marketing.
Reducing costs, for example by delivering operational efficiencies.
Attracting, growing and retaining the human talent required to support the organisation.
Building successful business relationships with the suppliers and partners who support the organisation.
Compliance with laws, regulations and standards.
Helping organisations to operate with sustainability in mine.
Driving innovation.
By taking this approach up front, you will develop a clear statement of the strategic objectives you are seeking to achieve, creating a compelling value proposition that stakeholders can relate to and get behind. As you move forward, it will keep your team focused on tangible business outcomes, allow you to measure the success of your endeavour and generate tangible evidence of the role that you and your team have played in achieving the outcomes.
This need not be a protracted exercise. We typically aim to help our clients complete high level Discovery and to have an outline data strategy in place within 2 to 4 weeks.
Build situational awareness with a Wardley Map
The challenge is being able to combine all of the thinking above into something concise that engages other stakeholders in the process of exploring and developing strategic options.
A visual tool can provide significant benefit here. By finding ways of compressing knowledge into a map or graphic we can avoid information overload and enable our eyes (the most powerful of our 5 senses) to discover patterns and find the insights that matter. We are huge fans of Wardley Maps as a means of building situational awareness and exploring different strategies.
The Wardley Map below illustrates how an organisation can move from current state to future state on a single map. It illustrates how Microsoft Fabric transforms the lower less visible layers in the value chain and how this can ripple up through to the higher layers to drive business value. The map can also be overlayed with wider strategic considerations such as alignment with Data Mesh principles. See also associated blogs How Does Microsoft Fabric Measure Up To Data Mesh? and Developing a Data Mesh Inspired Vision Using Microsoft Fabric for more information about how Microsoft Fabric enables a Data Mesh inspired data strategy.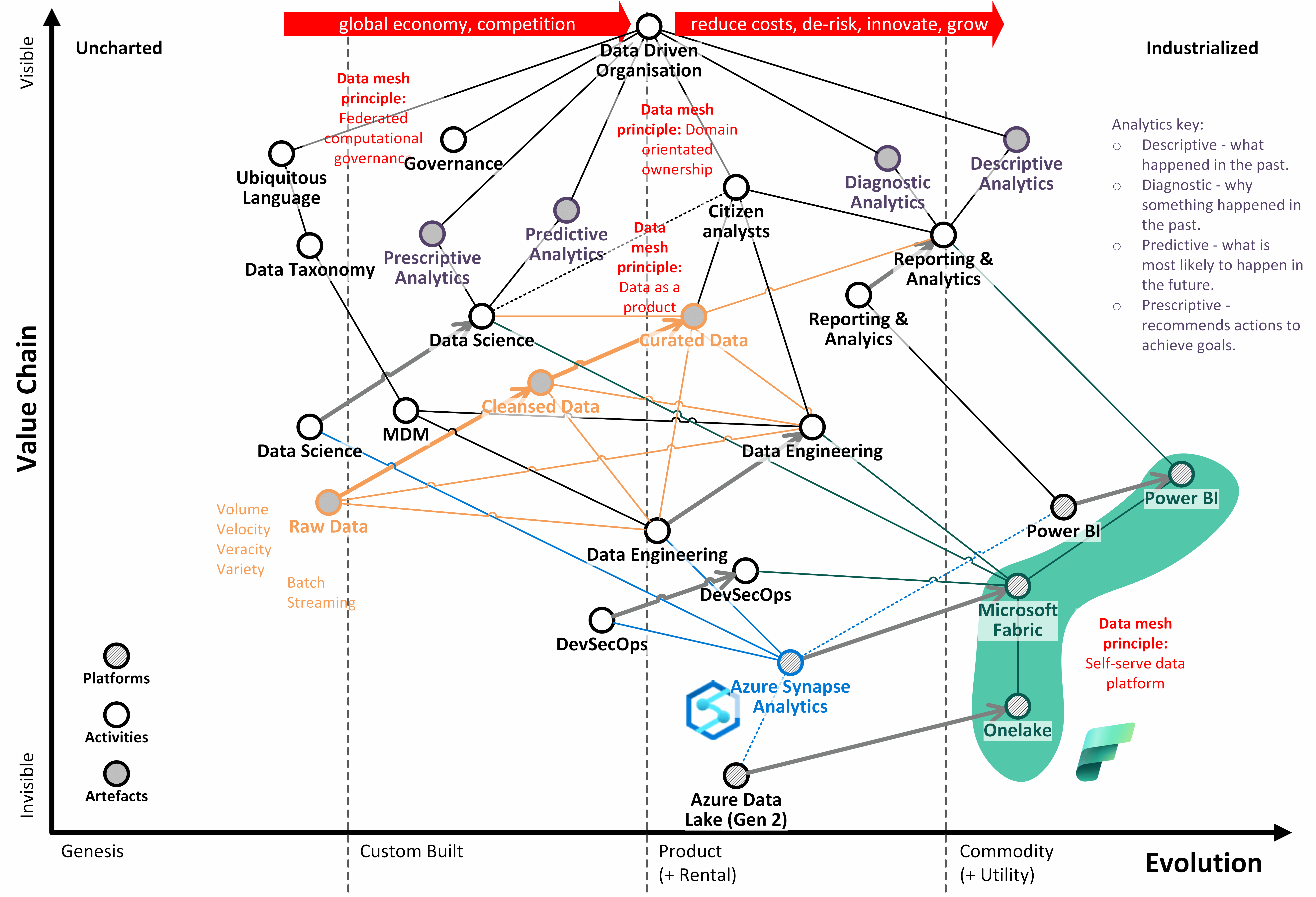 This map is available for download as Adobe Acrobat document or as a Visio diagram that you can edit to reflect the strategic landscape within your own organisation.
The map provides an powerful means for technology leaders to communicate how advances in technology such as Microsoft Fabric can ripple up through the value chain to enable the business to meet its goals.
This map is very generic. For your organisation, it would look quite different:
The lower "infrastructure" levels of the map would reflect your current architecture and the movement enabled by a transition to Microsoft Fabric.
The middle layer would reflect the data and analytics capabilities that are important to your organisation.
The top layer would capture the goals of you organisation, establishing clear links to the capabilities and technology layers below.
A map developed for your organisation would also overlay other concerns such as highlighting where you expect to encounter resistance to the proposed "movement" and to develop strategies to address this proactively.
We now explain this generic map by breaking it down into three sections. In this case, we will start with the technology infrastructure and work from bottom to top. In many cases you may want to work top to bottom by starting with the business goals:
Transformation is enabled by new technology
Bottom portion of the map is concerned with the technology infrastructure. This layer is often hidden to the wider organisation but is often critical to unlocking value higher up the value chain. Think here about how advances in technologies such as cloud, mobile and social media have fueled digital transformation in the past.
In this case we are illustrating how Microsoft Fabric shifts the storage, compute and analytics infrastructure "right" on the map. This so-called "SaaS-ification" and integration of data and analytics capabilities delivers the fundamental benefits we describe above: reducing TCO, accelerating time to value, scaling up to meet demand. In doing so, Fabric addresses the Data Mesh principle of the "self-serve data platform".
One direct impact of this that DevSecOps "shifts right" on the map - this means you are no longer dependent on the talent and skills you have access to inside your organisation in order to get access to these powerful technologies. If you were a one-person-organisation, you could get access to an advanced analytics platform that, until now, would only be within the purview of an enterprise with a large budget and dedicated specialist IT resources.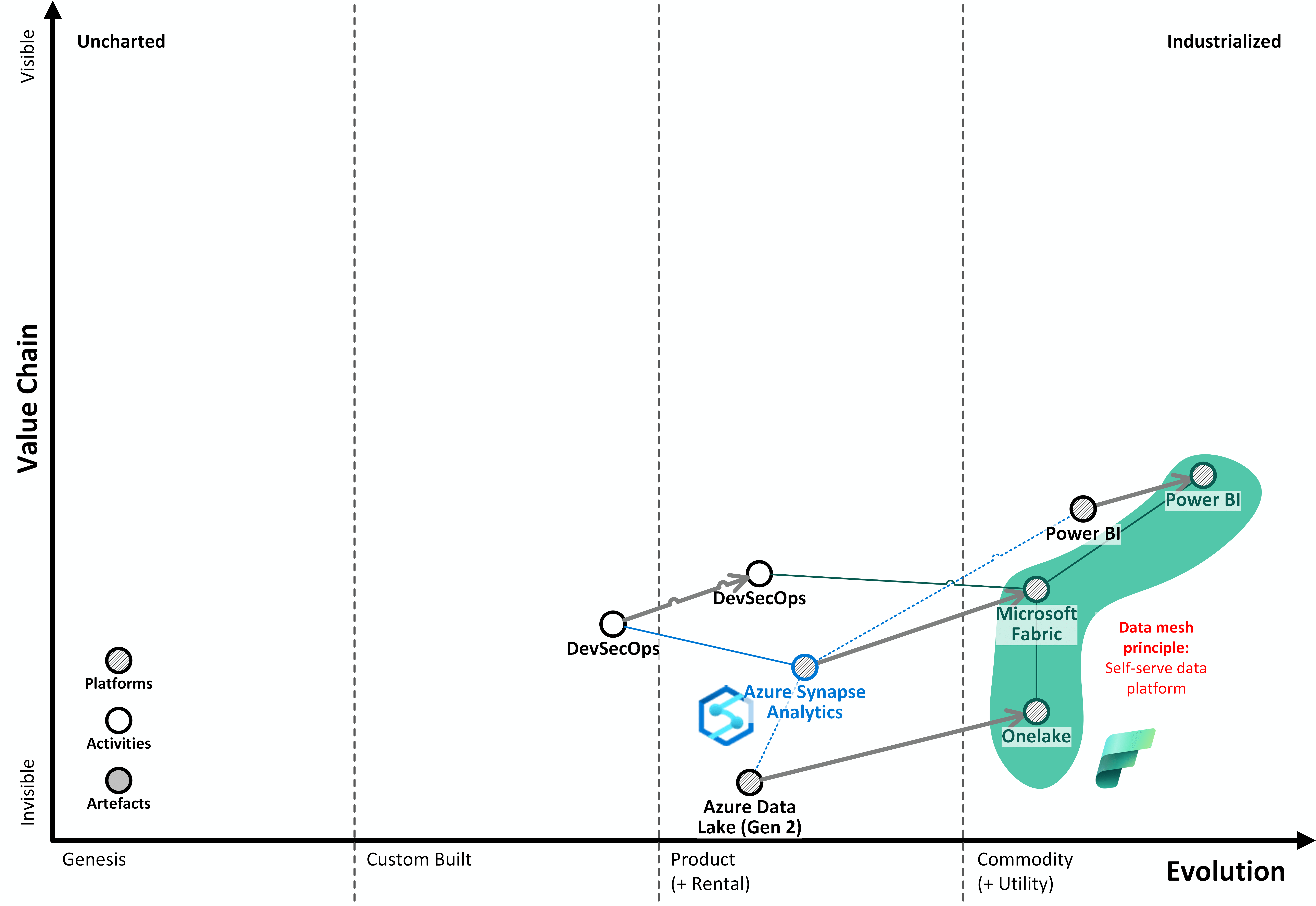 Technology supports new data capabilities
The shift right of the underlying infrastructure, ripples up to the next layer to enable new data capabilities. Here we capture this through the lens of the underlying technical processes (data engineering, data science and data analytics) operating on a broad spectrum of data (the 5 Vs) to take data through the raw (bronze), cleansed (silver) and curated (gold) lifecycle. This supports the data mesh principle of "data as a product".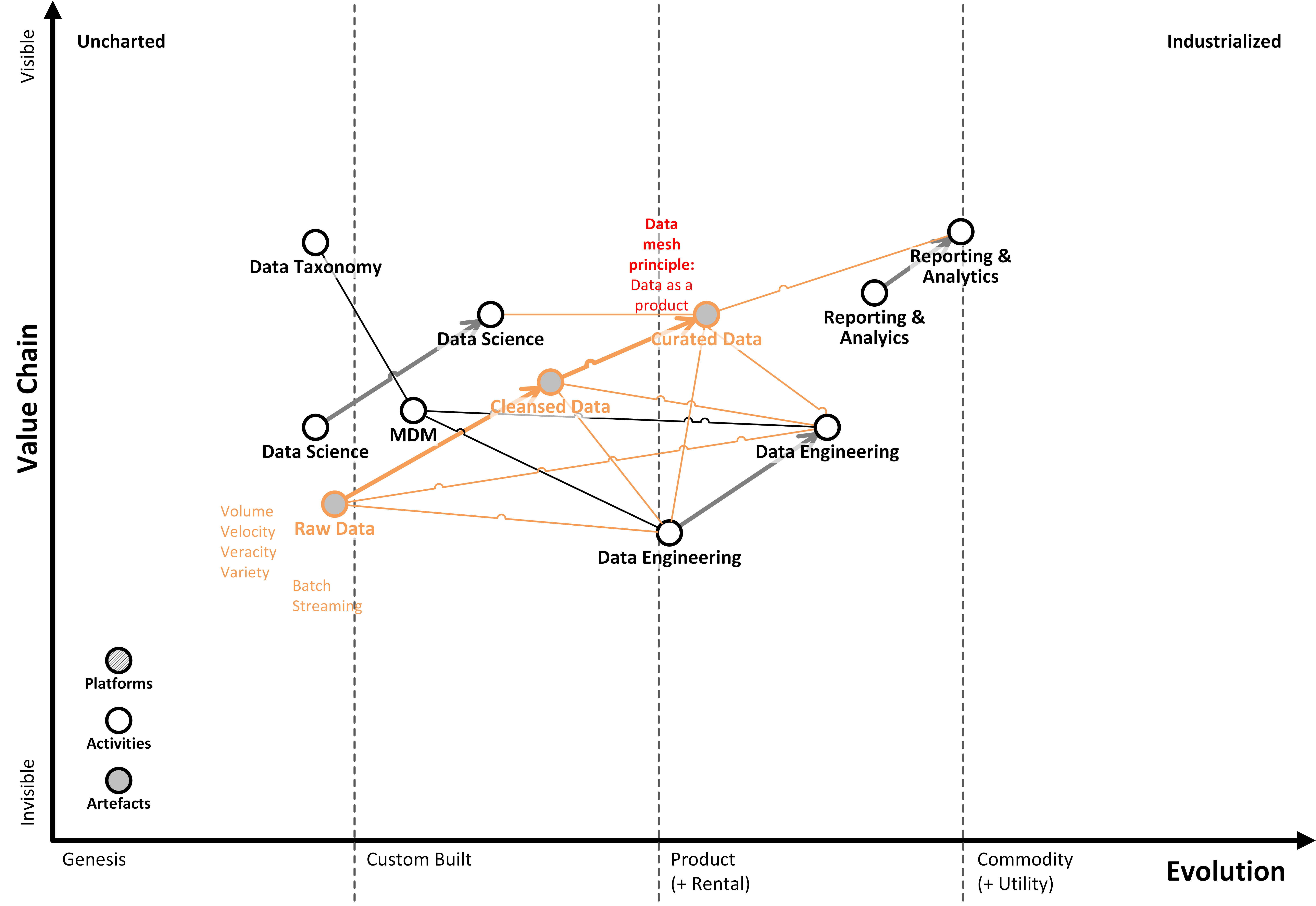 New data capabilities are aligned to the organisation's goals
Finally we illustrate how the data capabilities above then enable the organisation to become more data driven. For example, using Microsoft Fabric to empower "Citizen analysts" - in other words, equipping people across the business with new tools to enable them to leverage data in their day to day roles.
This part of the Wardley Map should be tailored to reflect the specific features of your organisation. At the top of the value chain it should capture the key products or services your organisation provides to "end users". You can represent the goals of the organisation as pressures that are being placed on these products or services. Then highlight the business capabilities that support them as the next layer in the map.
The Wardley Map can then show how the data infrastructure and data capabilities in the lower levels of the value chain can deliver actionable insights (delivered through descriptive, diagnostic, predictive or prescriptive analytics) to empower those business capabilities to achieve the goals.
This "empowerment through data" is consistent with the Data Mesh principles of "domain ownership" and "computational federated governance".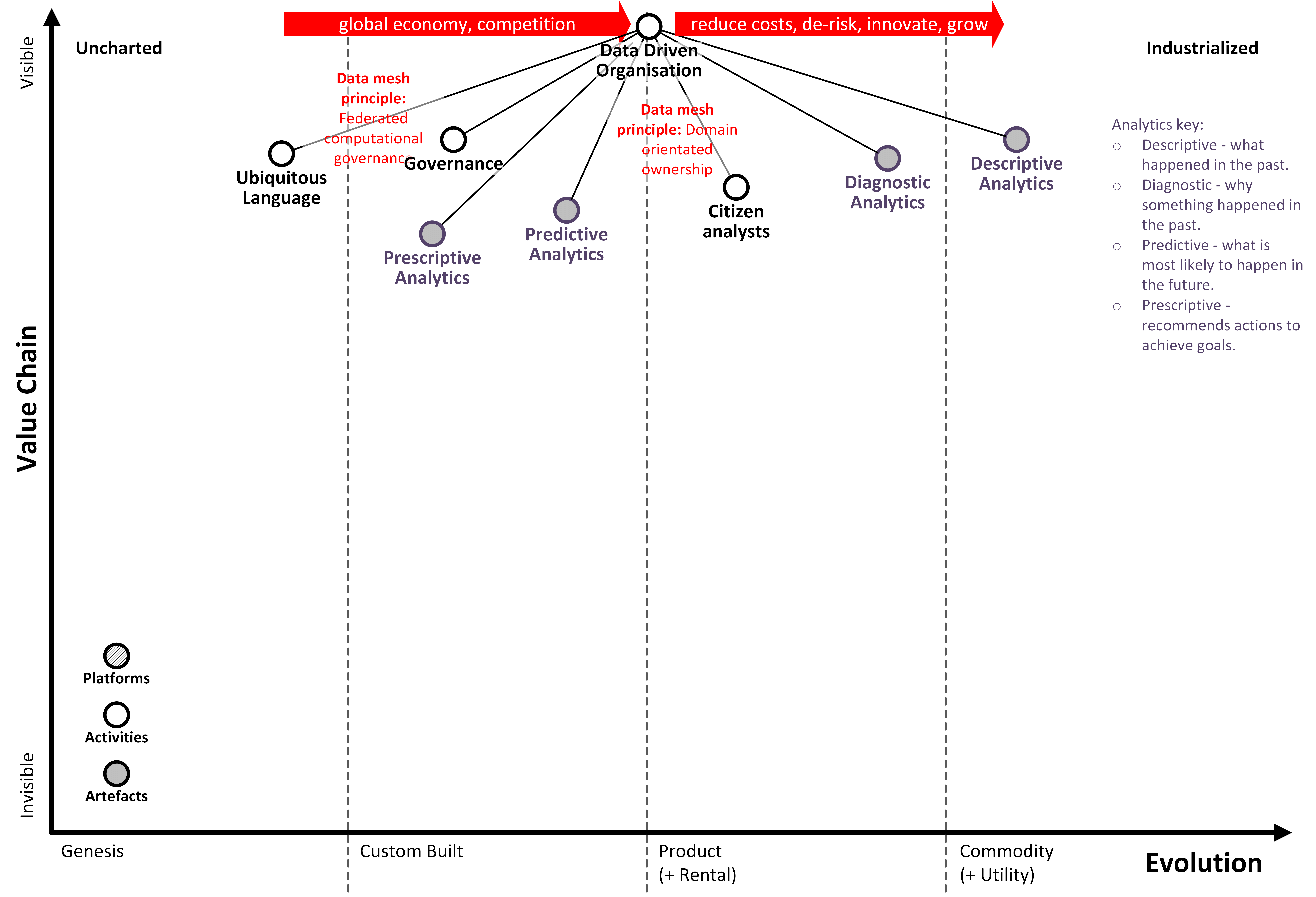 Final thoughts
Organisations should use the time available before Microsoft Fabric becomes generally available (GA) to reboot their data and analytics strategy and maximise the opportunities it will offer. See this as an opportunity to make a significant step forward, not "just doing the same thing but on a different technology stack".
We strongly advise using a visual tool to build situational awareness (current state) and explore the opportunities presented by Microsoft Fabric and the wider organisational capabilities that it enables (future state). Take an experimental approach, use the visual tool to rapidly explore different strategies "on paper", sharing these to gain stakeholder buy-in and to refine before committing. A goal driven approach is the key to success as it will ensure the data and analytics strategy is aligned to the overall goals of the organisation.
FAQs
What is a Wardley Map?

A Wardley map is a visual tool for building situational awareness and to explore business strategy.
What are the components on a Wardley Map?

The components represent key elements of the value chain (activities, platforms, artifacts). The connections show how value flows between components. On the vertical access, components near the top of the map are the most visible to stakeholders. On the horizontal access, components on the left are bespoke, whereas components on right are off the shelf commodities.
Are the Wardley Maps in this blog available for download?

Yes! As an Adobe Acrobat document or a Visio diagram. Feel free to download and adapt for your specific environment.
How should I assess the strategic opportunities presented by Microsoft Fabric?

Start with building situational awareness about your organisation using a tool such as a Wardley Map. Ensure that this framed in relation to the goals of the organisation. Explore how Microsoft Fabric can transform the organisation to make it more data driven, relating this transformation to the goals.
What is the business case for adopting Microsoft Fabric?

Microsoft Fabric promises generic benefits such as reducing TCO, accelerating time to value, enabling data teams to scale up to meet demand, increase trust in data and reduce risk. However we recommend that you think beyond these generic benefits to align Microsoft Fabric adoption with the strategic goals that will be unique to your organisation. We also recommend that you think of adopting Fabric as socio-technical endeavour NOT as a technology re-platforming project.