Double win for Apprentices at Computing Rising Star Awards 2019.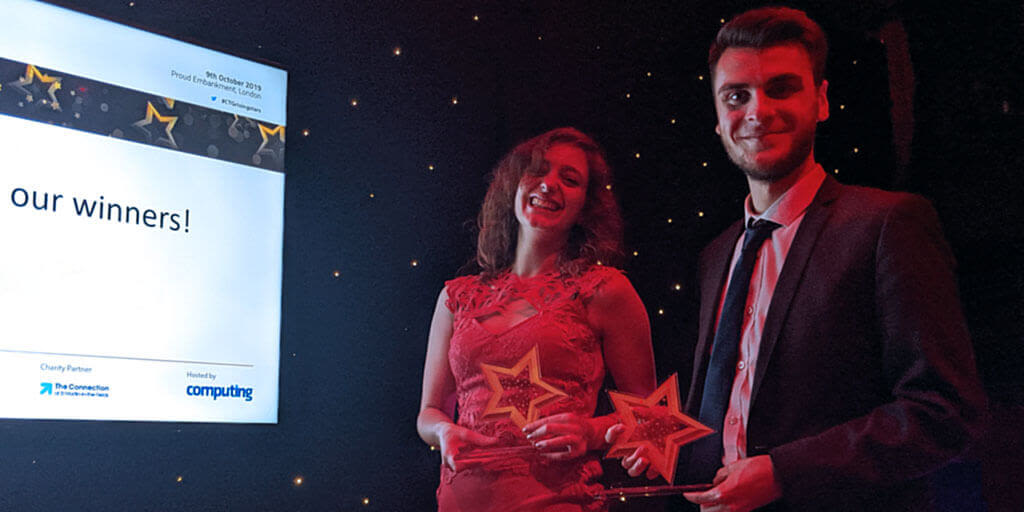 Carmel and I are incredibly happy to share that we both emerged as winners at yesterday's Computing Rising Star Awards, a wonderful evening hosted by Computing with great food and drink, great acts and great people.
There were 19 awards given out in total, ranging from "Analyst of the Year" through to "Unsung Hero of the Year".
Carmel won the Apprentice Engineer of the Year award, and I was awarded the Cloud Apprentice of the Year, both of which recognise individuals making substantial inroads in their respective digital sector, displaying a strong understanding of the sector and a willingness to dig deeper and build knowledge. We're both thrilled and humbled that we met these criteria enough for us to take home the awards.
You needn't look any further than Carmel's blog to understand why she's well deserving of this award. Carmel's been committed to sharing her learnings throughout her apprenticeship through the medium of blogging, with content ranging from bleeding-edge technical articles to more reflective blogs highlighting the importance of maintaining a healthy mental state in the often-challenging world of work. Looking further, however, you'll find that Carmel is also a public speaker, a STEM ambassador and an active advocate for Women in Tech.
On my side, I'm very fortunate to have been given the opportunity to work with many Cloud-based products and services for our clients here at endjin, some of which you can read about on my blog. Additionally, I'm particularly proud to have established Power BI Weekly, a free weekly newsletter all about Microsoft's Cloud-based Business Intelligence platform, which aims to bring all the week's Power BI news from authors across the ecosystem all into one place. This has given me invaluable insights into being a product owner, and has given me the opportunity to build relationships with many like-minded people outside of endjin.
Most importantly, Carmel and I would like to extend a huge "thank you" for all of our colleagues at endjin, for the tremendous support, motivation and empathy shown towards us during our time as apprentices thus far. Endjin is truly the perfect place to undertake a software engineering apprenticeship - it's not just about increasing technical prowess, rather it's about moulding the apprentice into a well-rounded software consultant through a mixture of formal/informal training, and internal and external project work. "Soft" skills are just as important as technical skills, along with the gaining of an understanding of the different parts of how a consultancy business works, from the commercials with clients and the many other business development practices.
Speaking for myself, I find it very hard to believe that I'd have won this award without the support I've received from my colleagues over the last couple of years. That, coupled with endjin's comprehensive (and enjoyable!) apprenticeship scheme, has no doubt played a huge part in this achievement. In fact, thinking back to my first month as an apprentice at endjin, I'm amazed as to how much I've learned and been exposed to, and I feel truly fortunate to work for endjin.
If an apprenticeship at endjin peaks your interest, and you have an unwavering drive to learn, then go ahead and send your CV to hello@endjin.com.